Hunter's Station Golf Club
Welcome to
Call 814-755-4558 To Book A Tee Time
Our course allows both the beginner and the seasoned golfer to experience the beautiful landscape of Tionesta, PA. Enjoy great views, holes with various difficulties, and the beauty of nature in the mountains and along the Allegheny River.

Visit our pro shop. We carry apparel, golf shirts, sweatshirts, t-shirts and windbreakers. We also have hats, golf towels (one featuring a picture of our signature hole), golf accessories, gloves and Titleist balls.
Dine With Us
Call Us 814-755-7777
See The Menu
Open to the public – not just our golfers! Please come enjoy our extensive menu that offers something for everyone. From specialty pizzas to customizable burgers, to the paninis that will have you coming back for more. There is a dinner menu after 4:00 that includes ribs, steaks, pasta, fish and so much more.
Dining
Come And Stay With Us
Lodging
Rates & Reservations
Come stay with us. Your home away from home. Park your car and let it sit for the duration of your stay. Enjoy golf, lodging, our restaurant and bar all in one convenient location.
About Hunter's Station
Hunter Station was opened as a 9 hole golf course in 1980. Designed by Jack Sherman and is still a family run golf course to this day. In 1997, the course was expanded to an 18 hole facility. Lodging and golf packages were added in 1999 and have been expanding ever since. The scenic Hunter Station is nestled in the Allegheny mountains with spectacular views of the Allegheny River. The front nine climbs into the Allegheny mountains, while the back nine runs along the majestic and serene Allegheny River.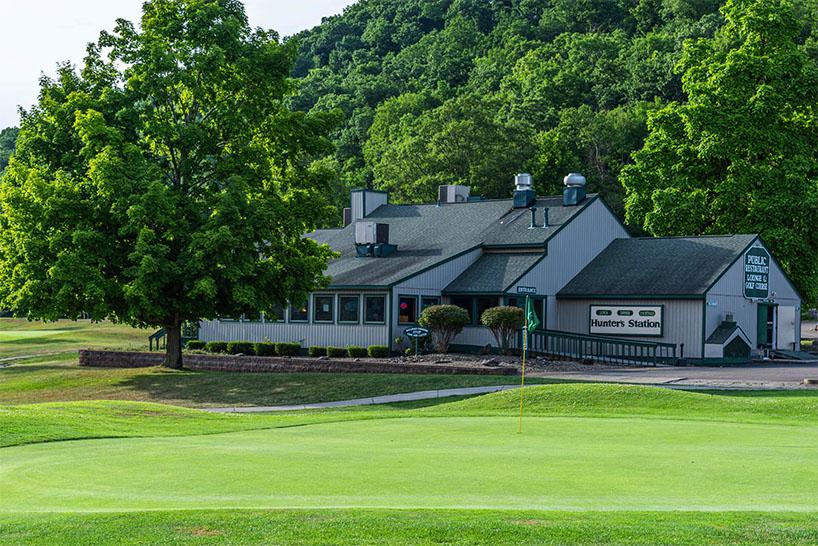 Comfortable & Convenient Lodging
Delicious Drinks & Food at Hunter's Station Golf Club
FRIDAY - SUNDAY & HOLIDAYS
FRIDAY - SUNDAY & HOLIDAYS
WEDNESDAY SENIOR SPECIAL
Anyone over 55 gets 18 Holes w/cart for $17!
All 18 Hole Fees on Monday Through Thursday get two free hot dogs! (Until 1:00PM)
SUNDAY TWILIGHT SPECIAL
after 2:00PM 18 Holes w/cart is $20.00
YOUTH SPECIALS
Kids under 12 years old are 1/2 price
Thursday and Sunday – anyone under 16 can golf for FREE but need to be accompanied by a playing adult.